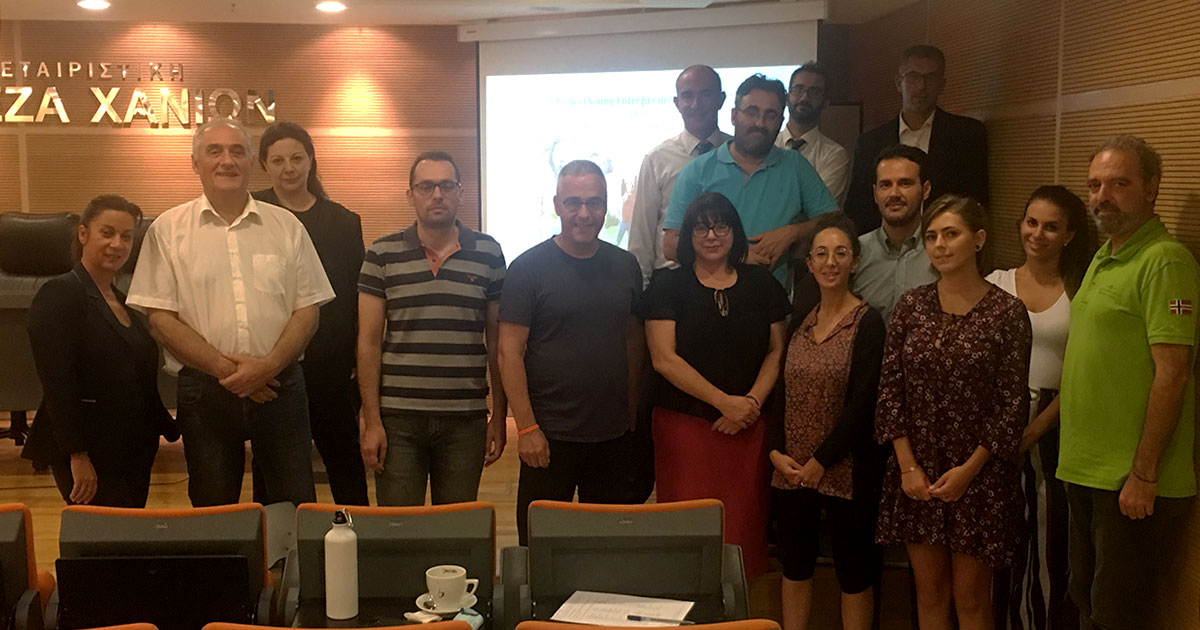 Last month in Chania, Crete, twenty people gathered together to discuss an important question: How can we improve the environment for NEETS (young people neither in employment, education nor training) to become entrepreneurs?
Attendees hailed from different parts of Europe (Greece, Italy, Germany and the UK) and partook in a two-day workshop from the 4th-6th September, alongside representatives from the Cooperative Bank of Chania and some other service providers.
The participants are experts in this field, who began working together in 2018 on this "Scaling trust-based partnership models to recharge youth entrepreneurship: supporting underserved communities with innovative entrepreneurship support instruments (TPM-RYE) project", which is funded by 'EEA and Norway Grants Fund for Youth Unemployment'. There was an exciting buzz at the workshop as it was the first chance the group has had to gather together. They decided to learn and share from each other under the central theme, "Trust-based Partnership Models".
Determining this theme was straightforward for project partners who are highly aware that entrepreneurship is a recognised and effective tool to overcome unemployment in Europe. A pressing problem, however, is that young people particularly do not have access to the necessary resources and assets required to create sustainable businesses.
The group understands that access to "support instruments" in the pre- and post-start-up phase of business creation bridges the gap between older and younger entrepreneurs – helping the latter to build up resources and assets.
Trust based Partnership Models depend on excellent working relationships between organizations from the public and private sector as well as banks. Indeed, as project partners were joined by the Cooperative Bank of Chania, who also acted as a host, it provided an opportunity to bring together stakeholders and organisations from different sectors to think and discuss different opportunities for future co-operation.
Although the theme was rich for creating a wealth of material, it was decided that designing and implementing proven and successful non-financial support mechanisms in the pre- and post-start-up phase should be addressed. Special focus was on mentoring too. Mentoring programmes for entrepreneurs in the post-start-up phase show a significant increase of the survival rate of self-employed young people. Additionally, alternative ways to engage NEETs in entrepreneurship were presented and discussed with a view to engage NEETS from diverse backgrounds.
Overall, it was a successful experience and the group looks forward to convening again in November in Poland. The next theme will centre around soft skills training and improving pre-start up training and coaching. Youth Business International (YBI) is a network of 52 members around the world who work with undeserved entrepreneurs. YBI acted as the coordinating organisation of this workshop alongside network member KIZ, who are experts in self-employment and professional re-orientation.