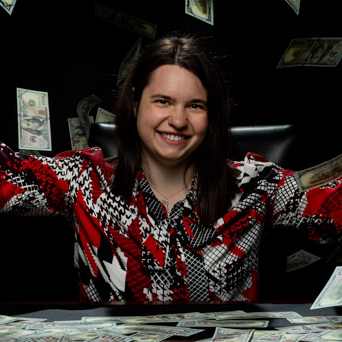 – Describe briefly what the business idea is based on.
My name is Natalia Lewczuk and I deal with the development of a personal brand. I am the author of two books that were published in 2022. I am also a multiple laureate of literary competitions. I try to inspire others to develop personally and achieve the impossible.
– What was your situation before joining the program?
Before joining the program, I had many business plans, but also many unknowns and question marks. I knew what I wanted to do, but I had no idea how. The "YES" program helped me organize my goals step by step, outline the path and, most importantly, at every stage of my work, I could count on the support of experienced mentors and colleagues from the project.
-What are the main benefits of joining the program in your opinion? What did you get?
Certainly, the greatest benefit is the knowledge gained, which will be useful not only in my current projects, but also in all other projects that I will implement in the future. Besides, business is really about people and the relationships between them. Thanks to the program, I had the opportunity to meet many amazing people, both among other participants and our mentors. I hope that these relations will survive and even in a few years we will be able to count on your support or help. Personally, during the project, I achieved a lot of goals. Currently I have my own company D.W.S. and I managed to develop social media quite nicely. In connection with the premiere of the second book, two months ago I independently organized a public event for the inhabitants of my city, for which I even managed to obtain the patronage of Radio Białystok. I would certainly recommend the program to others.
– What are your plans for the future?
Currently, I am focusing on promoting my newest book. "Success. Conversations with people from the homeless to millionaires ". I am also thinking of starting my own merch and I would certainly love to publish this book in the USA. For now, I am talking to literary agents from overseas. I am also planning another author's meeting, but this time in a different part of Poland.