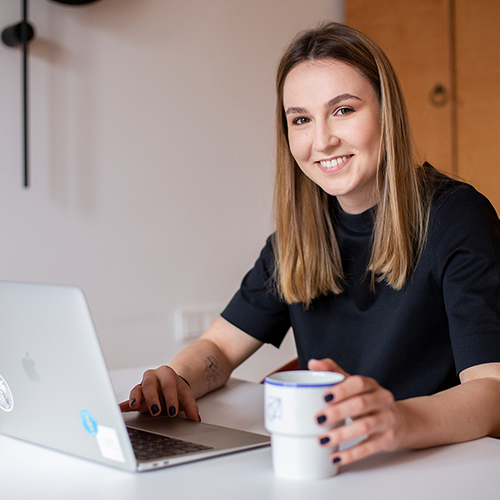 – Describe briefly what the business idea is based on.
I deal with recruitment and personal development. I professionally combine these two elements. My idea is about building a new approach to recruitment, so it was a process that both responded to the needs of business and was a development moment for people looking for a job or changing their career path.
– What was your situation before joining the program?
I knew the absolute minimum. The support of mentors allowed me to arrange the process of starting a business calmly. I also got a grant, and participation in the program convinced me that it is worth submitting an application at all and I found out how to complete such an application correctly.
During the program, I learned that I didn't know much about creating services, products and online activities, although it was the moment that forced me to change my thinking about my idea, I founded a company with greater certainty of financial stability and understood that I do not need to have everything ready 100% to start the activities.
-What are the main benefits of joining the program in your opinion? What did you get? Would you recommend the program to other people?
I have gained greater business awareness, the real one, based more on data than dreams and wishful thinking. I gained a lot of contacts and learned how to expand my network of contacts on my own. |
Would I recommend the program? Of course, to anyone who starts to think about their own business.
– What are your plans for the future?
Very simple – implement new collaborations step by step, gain experience, build a brand and a team.
-Was anything groundbreaking for you and your business during the workshops?
Yes – to put it simply, I had the opportunity to experience what it means to be an entrepreneur, which allowed me to better prepare for this role. An important point during the workshop was to define my customer and service segment.