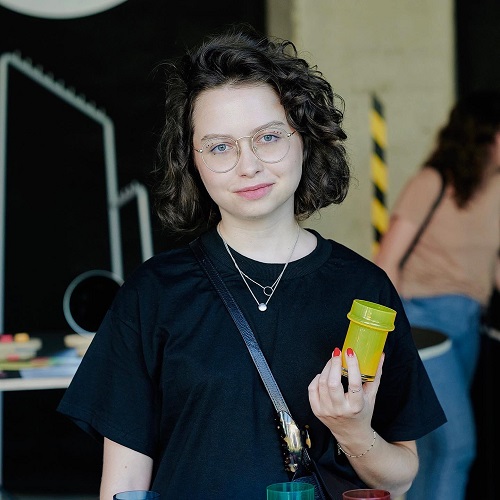 Ania Gwiazda is a graduate of the YES! program and today also … the owner of her own company GWIAZDA GLASS, dealing in the production of glass objects for everyday use, produced in a craft way, in a low quantity, with great respect for detail.
Describe briefly what the business idea is based on.
I have been dealing with glass for 3 years now, and I designed my first glass object in 2017. GWIAZDA GLASS focuses on everyday glass items, i.e. glasses, bowls, etc., produced in a craftsmanlike way, in a small quantity, with great respect for detail.
What was your situation before joining the program?
Just before I applied for the YBP program, I made an internal decision that I wanted to start my own business and give myself a chance to realize my personal brand. I decided that I would look for forms of funding, educate myself in the field of entrepreneurship, and that's when I came across an advertisement for YBP.
What did participation in the YES! program give you? – Young Entrepreneurs Succeed?
I made sure that I was doing the right thing by setting up the company, I received a lot of support and warm comments about my business. I also learned a lot about marketing and e-commerce. I also received many tips on where to look for information allowing for the development of the company.
What does your work look like on a daily basis?
It depends on the projects I'm working on. Kinderbal is in the implementation phase, so during the day I contact the glassworks, I ask how the work on glass blowing molds is progressing. I prepare content for social media, especially Instagram, where I try not only to post nice content, but also to educate in the field of design and glassmaking.
I'm also working on a few other projects that require me to do 3D modeling, color selection, and 3D proofing. Mostly I sit at the computer and hang on the phone 😉 . The most exciting are trips to the glassworks, where I oversee the making of prototypes, watch glass tinting tests and talk to craftsmen. These are incredibly interesting trips, I always learn something new.
What are your future business plans?
I would like to expand the assortment in my shop, meet new craftsmen and support slowly forgotten techniques of glass production before extinction. I am interested in the development, not only of my brand but also of myself, including my knowledge of glass.
You can find Ania's company here!