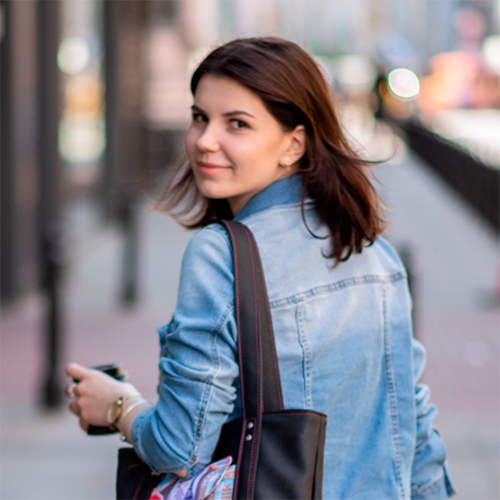 – Describe briefly what the business idea is based on.
Hey, my name is Ania and my business idea was born out of a passion for sewing.
I deal with sewing women's bags and accessories. I create original projects, but I am also open to the client's vision and sometimes individual orders are created.
– What was your situation before joining the program?
Before joining the program, I was in a rather chaotic situation. I knew more or less what my goals are and what my brand should look like in the future, but I had so many ideas that it was difficult for me to arrange it and start acting.
My business activities are 90% based on social media and before the training I was at the stage where I stood still, I had no more observations, I had no idea how to move on and get clients.
-What are the main benefits of joining the program in your opinion? What did you get?
The training allowed me, above all, to organize my knowledge about running a business, as well as to prepare for its establishment. Although my brand is still operating unofficially, the training definitely brought me closer to starting a company.
Participation in the training also gave me a lot of marketing knowledge and the support of specialists. Business mentoring turned out to be invaluable help.
I would definitely recommend participation in the program to anyone, regardless of whether they are at the stage of the idea or already working with their brand.
– What are your plans for the future?
My plans for the future related to business are running a business based on social media, but also opening an online store, and in a few years opening a place where the studio will be combined with the stationary sale of my products.
I want my brand to remain a "small" business, a small corporation.
– Was anything ground-breaking for you and your business during the workshops?
There were a few breakthrough moments for me during the workshop. First of all, realizing that it is better to do something in small steps than to give up when bigger steps do not go out as I would like.
The biggest changes took place in my mentoring after participating in the program. In my case, mentoring was not only support in the area of ​​running a business, but also allowed me to organize my internal chaos, which of course translates into business.
The best thing that the program gave me was to create an action plan and follow it, as well as inspiration for new solutions that I can apply in my company.