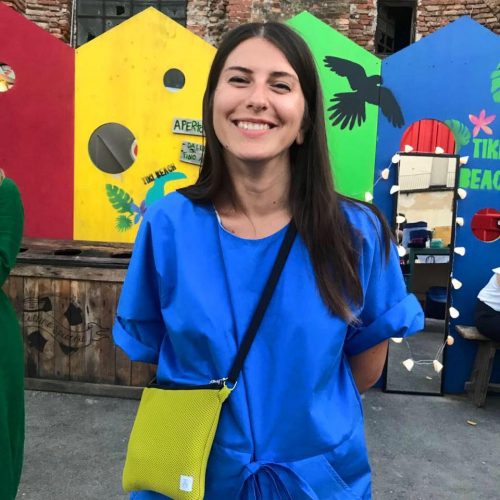 Silvia Zarantonello is a young entrepreneur from Vicenza, Italia. She believes that professional cooperation and human relations are the success keys of many activities and she's firmly convinced that relating to each other through a mutual exchange could improve the social structure: supporting interactions between citizens from other countries may represent a great chance of reciprocal enrichment and a healthy sense of belonging.
Silvia established 'Zaz handmade' in 2017, a sewing project which wants to propose an alternative to fast fashion, a brand of clothes and bags made of recycled materials that offer a variety of artisan fashion products made with the sight of a transparent and eco-friendly production process, aimed at promoting crafts and small businesses through the practice of re-use. The company produces bags and garments made with recycled material: bags and backpack are made by solid fabric, neoprene and faux leather as starting materials; cored, washed, recycled and retired climbing ropes are sourced from local climbers once the rope is no longer fit for use.
In July 2018, Silvia contacted Microfinanza to be supported in the Erasmus for Young Entrepreneurs, an European project cofinanced by the EU: willing to get inspired and improve her business skills, she had the chance to collaborate with Mr. Huy Thong Tran May, founder and manager of OUKAN Concept Store in Berlin, Germany.